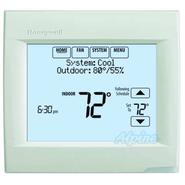 The VisionPRO® 8000 is a 7 day programmable touchscreen thermostat that is selectable for residential or light commercial use. This thermostat works with RedLINK™ wireless accessories including the RedLINK™ Internet Gateway, Portable Comfort Control, Wireless Outdoor Sensor, Wireless Indoor Sensor, Wireless Entry/Exit Remote, Wireless Vent and Filter Boost Remote.
Features:
Smart Schedule - programs in seconds for any lifestyle
Patented interview based programming and installer setup
RedLINK wireless communication
Selectable for residential and light commercial applications. Meets commercial code and is title 24 compliant
Alerts and user interactions log - keeps a searchable history of alerts and setting changes to the thermostat to determine if there is a system malfunction or if the issue was caused by a user error
Dual powered - battery or hardwired (C wire)
Precise temperature control (+/- 1° F) for reliable and consistent temperature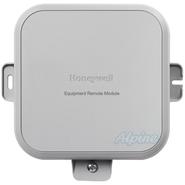 Honeywell's Equipment Remote Module (ERM) uses reliable RedLINK technology to let control devices, such as a thermostat, communicate wirelessly with outdoor two-stage air conditioners, heat pumps or an indoor boiler. The ERM eliminates wiring needs, so there are fewer holes to drill and wires to run resulting in faster, easier installation.
Features:
Simple user interface and setup
Temperature sensor terminals for outdoor temperature sensing and indoor freeze protection
LEDs for fast, easy equipment checks
Reduced installation time
Reduced wiring issues
Eliminating the need to run long lengths of wire reduces the potential of damage to the home
Powerful wireless range ensures reliable operation in nearly any application