36,000 BTU Mini-Split Heat Pump - Multizone Outdoor Unit
Have It Installed
Professional installation now available in !
Free online quotes
No home visit
Learn More
In Stock and Ready to Ship.
If ordered by 1 p.m. CST M-F, ships same day. All items on your order must be in stock for same-day shipping.
Guaranteed delivery as soon as
Order in
HIGHLIGHTS
*This is a condenser only. You must add Friedrich indoor air handlers for functionality.*
Why Choose Wall-Mounted?
If you have one or more rooms without exterior walls or windows, a wall-mounted ductless split system will work beautifully. The indoor air handler is sleek, unobtrusive and quiet. You need only a 2" clearance from the ceiling, so you'll have lots of placement options. All systems come with a remote control, so even units high on the wall are easy to operate. There's also an optional wired, wall-mounted controller for models over 18000 Btu. See our selection of wall-mounted ductless split systems.
Choose from single-zone cooling models, single-zone heat pumps that cool and heat, and multizone heat pumps that individually cool and heat multiple rooms.
Why Choose a Ceiling Cassette?
The indoor air handler mounts completely flush with the ceiling and only the grille is visible. However, a minimum of 9 ¼" of clearance above the ceiling is required, which makes it a great solution for drop ceilings. Each ceiling cassette has two branch ducts that can be run to adjoining rooms; an additional fan is required for each branch. So if there's adequate clearance in only one space, a ceiling cassette can still cool and heat up to 3 rooms from a single system. Friedrich ceiling cassettes have an energy-efficient SEER of 15.0, yet provide up to 2 tons of cooling capacity and over 24000 Btu of heat. They come with a wired, programmable remote that can control up to 16 units individually or by zones. *Standard Grille included with each ceiling cassette.
Why Choose a Concealed Duct?
Concealed duct units are mounted in the ceiling of rooms where minimal visibility of the heating and cooling system is desired. Ideally suited for applications where wall space is limited or the ceiling is the preferred installation location with only a small vent opening visible in the ceiling. Powerful, quiet compact and energy efficient, the installation will require minimal ductwork.
..... OR CHOOSE A MULTIZONE SYSTEM THAT COMBINES ALL 3 TECHNOLOGIES, 131 UNIQUE COMBINATIONS TO CHOOSE FROM!!!
Features
LCD remote for each indoor unit
24-hour timer and sleep timer
Automatic, cooling, fan and heating* modes
4 fan speeds heating* or cooling, including a "quiet" setting
Continuous 'Air Sweep'
Auto-restart after power interruptions
Auto-shut flaps close when unit is off for a sleeker appearance
Washable, reusable air filters
Removable front grille
Auto-changeover*
Low ambient operation
Secured remote control holder
4 different transmitter codes to prevent unintentional interference with nearby units
Optional wired, wall-mounted controller available for models rated 18000 Btu or higher
* Heat pump models only
Cool and heat up to four zones
Like other ductless models, a wall-mounted system consists of an outdoor condensing unit and 1–4 indoor air handlers connected by refrigerant and electrical lines that run through a 3" opening in an exterior wall.
Single-zone cooling: This system has one outdoor condenser and one indoor air handler that cools one room. The new 115V models have cooling capacities of 9000 and 12000 Btu, and the 230/208V models range from 18000 to 33000 Btu.
Single-zone heat pumps: This system has one outdoor condenser and one indoor air handler that cools and heats one room. Cooling capacities range from 8500 to 22000 Btu, and heating capacities range from 10000 to 27600 Btu.
Multizone heat pumps: This system has one outdoor condenser and up to four indoor air handlers that cool and heat individual rooms. Each indoor unit is separately controlled for customized comfort settings, and units can be turned off in unoccupied rooms to save energy. Multizone systems are available in numerous configurations, with total system capacities between 18000 and 36000 Btu.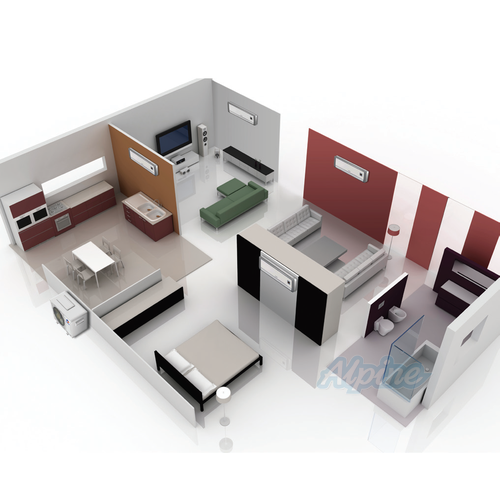 The advantages of Inverter Technology
Friedrich wall-mounted ductless split systems feature variable speed compressors and fans (called Inverter Technology), which reach the desired temperature faster, maintain it more accurately and reduce energy consumption with fewer compressor startups. Our wall-mounted ductless split systems can cool and cool/heat 1-4 zones. Multizone systems let occupants independently set the temperature for individual comfort. Units in unoccupied rooms can be turned off to save energy.
Available in cooling-only and cooling plus heat pump models
Cooling from: 8500-33000 Btu
Heating: 10000-27600 Btu
Hard-to-find 115V 9000 and 12000 Btu/h models are available.
Capacities up to 3 tons.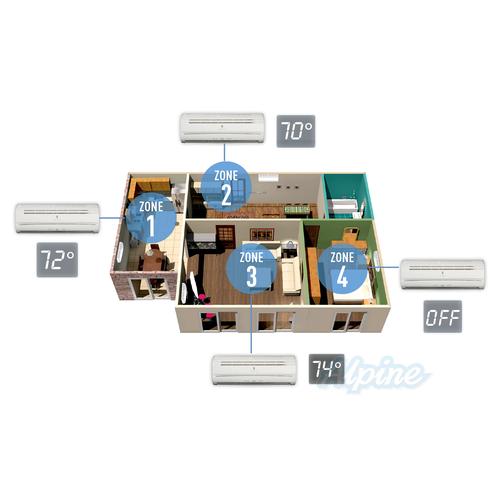 Complete your system by selecting a line set from the Accessories tab above. Line sets come in 15 foot, 25 foot, 35 foot, and 50 foot lengths.
Specifications
| | |
| --- | --- |
| Cooling BTUs | 36000 BTU |
| Cooling Tonnage | 3 Tons |
| Total Cooling Capacity BTU | 37400 BTU |
| Heating Capacity | 49200 BTU |
| SEER | 17.5 SEER |
| Energy Efficiency Ratio | 12.5 EER |
| Coefficient of Performance | 3.4 COP |
| Heating Seasonal Performance Factor | 10.4 HSPF |
| Refrigerant | R-410A |
| Factory Precharge | 123.5 Feet |
| Minimum Ampacity | 17 Amps |
| Maximum Fuse/Breaker | 25 Amps |
| Maximum Overcurrent Protection (Breaker) | 25 Amps |
| Maximum Line Length per Zone | 246 Feet |
| Maximum Height Difference | 49 Feet |
| ENERGY STAR® Qualified | No |
| Liquid Line Size | 1/4 Inches |
| Suction Line Size | 3/8 Inches |
| Outdoor Condenser Size, W x H x D | 35-7/16 x 45-7/8 x 14-5/8 Inches |
| Total Weight | 209 Lbs |
| Shipping Weight | 223 lbs |
| Compressor Warranty | 7 Years |
| Parts Warranty | 5 Years |
Accessories
*Any accessories purchased with the Friedrich MR36TQY3JM, are eligible for free shipping.
Let's Talk
Get expert assistance from our team
Call our product specialists at 800-865-5931
Mon-Tue 7:30a-7p, Wed-Fri 8a-6p, Sat 10a-3p CT
Bill
Dan
Joseph
Peter
Russ
Sal