11,800 BTU (1 Ton) Cooling, 11,700 BTU Heating, 11.6 SEER Heat Pump PTAC, 3.4 kW Heat Strip, R-410A Refrigerant
Have It Installed
Professional installation now available in !
Free online quotes
No home visit
Learn More
In Stock and Ready to Ship.
If ordered by 1 p.m. CST M-F, ships same day. All items on your order must be in stock for same-day shipping.
Guaranteed delivery as soon as
Order in
HIGHLIGHTS
This Blueridge BP12NR (Item No. 660844) has some cosmetic damage incurred during shipping. This unit has a couple of the cracks in the plastic front cover and a little damage to the coil. For detailed photos please click 'See Additional Images' above. This Blueridge BP12NR (Item No. 660844) meets the full manufacturer's specifications, comes with the full manufacturer's warranty, and includes Alpine's premium guarantee.

For product specs and photographs of product in its original condition, click here.
PTACs (package terminal air conditioners) also sometimes called PTHCs (package terminal heat pumps) are a great way to heat and cool your home. They are most commonly seen in hotels, but have excellent applications as well in room additions, garages and other areas. The Blueridge brand is exclusive to Alpine Home Air, and is manufactured to our tight specifications by the world's largest HVAC manufacturer.
Blueridge BP12NR (Item No. 660844)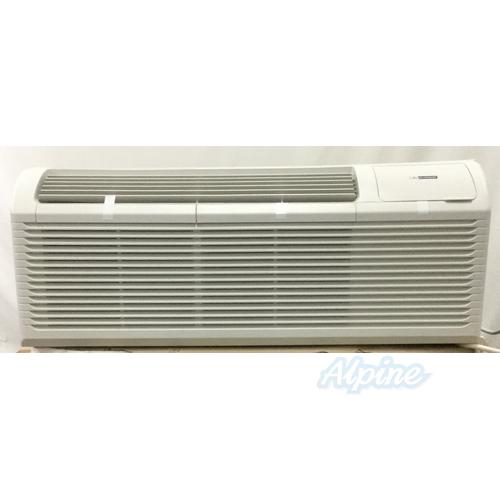 721
10,800
Electric Heater Capacity (BTUs)
Features
Fresh Air Vent System - Provides up to 65 CFM of fresh outdoor air into the living space
Ultimate Comfort Control - Connect your PTAC unit to a wall thermostat for ultimate comfort and upgraded room appearance. This PTAC unit makes it easy to connect to wired wall thermostats
Comfortouch Digital Control - Temperature Display and Touch Pad on Unit, Continuous Tempurature Sensing, Cooling Heating and Fan Modes, Electronic Tempuratur Limiting, Auto Restart and Random Restart Delay, Freeze Protection, Emergency Heat, Remote Control Options
Silencer System - Three speed indoor fan and AeroQuite indoor blower wheel, provide quite and consistent airfloow for maximum comfort
Smartfan Comfort Control - Programmable constant fan operation and quiet fan start up and stops
EZSERV - Ease of installation, service and maintenance - Easy troubleshooting with LED onscreen displays and nine point diagnostic, self check/self correct options
Includes*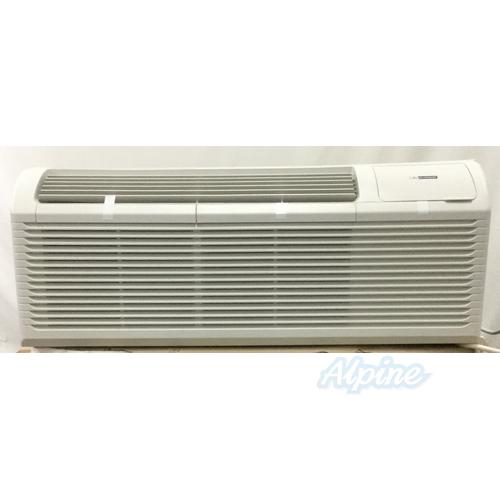 11,800 BTU (1 Ton) Cooling, 11,700 BTU Heating, 11.6 SEER Heat Pump PTAC, 3.4 kW Heat Strip, R-410A Refrigerant
*Does not include all required components for installation. See required components below in the
accessories
section to complete your system.
Common Questions
Question:

Who Makes Blueridge? I've never heard of them.

Answer:

Blueridge products are made by one of the largest, most reputable HVAC equipment manufacturers in the world to Alpine Home Air's specifications, which is one of the reasons these products are so reliable.

Question:

Why are they so inexpensive?

Answer:

We buy direct from the manufacturer and cut out the middleman to reduce costs which means lower prices for you!

Question:

Do these systems heat and cool?

Answer:

Yes! These units both heat and cool. Please see the Ambient Temperature Range on the

specifications section

below for the units operating temperatures.

Question:

How much square footage does this unit cover?

Answer:

The answer varies depending on your space. Try our easy

sizing calculator

, it's a great place to start. If you have more sizing questions, we would love to help! Call one of our product specialists at 800-865-5931.
Cut out hole
Choose an exterior wall to cut out a 42.25" x 16.25" hole, must be at least 3" off the ground.
Place in wall
Mount sleeve, insert unit, and attach grill.
Run Electrical
PTACs require different power plugs and wall recepticles. View this chart to make sure you have the correct one.
Customer Reviews
"Yes, I would recommend this to a friend."
Barry
"It came fully charged and ready to install. This unit is quieter than most PTAC units."
Roger
"Awesome PTAC unit, yes I would recommend this to a friend"
Edward
"Easy way to heat and cool a room addition."
David
"Quick, easy and inexpensive way to cool/heat lake cottage."
Logan
"Second time purchasing from them with great success."
Ralph
"I'm using it in my man-cave and in my garage. GREAT"
Jason
"This unit is an outstanding value for its price."
Darrell
"Alpine air is always top notch. Always what we ordered and great friendly service."
George
Specifications
| | |
| --- | --- |
| Electric Heater Capacity (BTUs) | 10800 BTU |
| Heat Pump | 10700 BTUs |
| Cooling BTUs | 12000 BTU |
| Cooling Tonnage | 1 Tons |
| Built-In Heater Coil | 3.5 kW |
| Energy Efficiency Ratio | 10.5 EER |
| Nominal CFM | 440 |
| Refrigerant | R-410A |
| Breaker Size | 30 amps |
| Compressor Type | Rotary |
| Power Cord Included | Yes |
| NEMA Plug | 6 - 20P |
| Equipment Type | PTAC |
| Cut-Out Dimensions, W x H | 16 1/4 x 42 1/4 inches |
| Sound Rating, Indoor | 45 / 53 Decibels |
| Shipping Weight | 140 lbs |
| Voltage | 208 - 230 Volts |
| Frequency | 60 Hz |
| Voltage Phase | 1 |
| Compressor Warranty | 5 Years |
| Parts Warranty | 1 Years |
Accessories
*Any accessories purchased with the Blueridge BP12NR (Item No. 660844), are eligible for free shipping.
Let's Talk
Get expert assistance from our team
Call our product specialists at 800-865-5931
Mon-Tue 7:30a-7p, Wed-Fri 8a-6p, Sat 10a-3p CT
Bill
Dan
Joseph
Peter
Russ
Sal