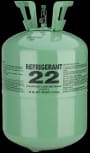 Inside air conditioning systems is liquid/gas refrigerant. There are two types of this refrigerant available for use,R-22 (more commonly known by its brand name Freon),and a new alternative R-410A. Refrigerant is a substance which absorbs heat by changing states (evaporating) from liquid to gas. It releases heat by changing states (condensing) from gas back to liquid. An air conditioning system does not consume refrigerant, but reuses it. As long as there are no leaks in the refrigerant circuit, there is no need to ever add more refrigerant to an air conditioning system.
IAlthough R-22 is an effective refrigerant, if it is released into the atmosphere it can contribute to the depletion of the Earth's ozone layer. The EPA has mandated the phasing out the use of R-22.It is being replaced by the now-available R-410A.As of 2010, manufacturer's are required to make all new air conditioners with R-410A.Units using R-22 are still available for sale. However, they no longer are sold containing refrigerant, and will require your technician to fully charge the system after installation.R-22 refrigerant is becoming increasingly expensive, and at the current and expected future cost of R-22, it is often more cost effective to install equipment containing the new R-410A.By 2020, R-22 will no longer be manufactured, but will still be recycled and available for sale.
R-22 will no longer be manufactured by 2020, but will be recycled and available for sale indefinitely beyond then.
Your system will not require R-22 to be added in the future if it doesn't have leaks and you keep it properly serviced.
Handling Refrigerant – What You Can Do
As of 1993, R-22 refrigerant can only be handled by technicians who are EPA certified. While 90 percent of an air conditioning installation can be performed by the average homeowner, if the equipment uses R-22 refrigerant, part of the installation requires the work of an EPA-certified technician. This is mandated by federal law. Any maintenance, service, repair, or disposal of equipment that could be reasonably expected to release R-22 refrigerants into the atmosphere by violating the integrity of the refrigerant circuit must be handled by an EPA-certified technician. Only an EPA-certified technician can attach and detach hoses and gauges from your R-22 condensing unit to measure pressure within the appliance. Only an EPA-certified technician can add or remove R-22 refrigerant from the system. To service the compressor of a condensing unit, the refrigerant must first be captured and then recycled by an EPA-certified technician. Activities such as painting the appliance, re-wiring an external electrical circuit, replacing insulation on a length of pipe, or tightening nuts and bolts on the appliance are not reasonably expected to violate the integrity of the refrigerant circuit and can be performed by a homeowner. Need a contractor? We'll help you get one. Click here for details on our Contractor Assistance Program.
When installing central air, an EPA-certified technician will:
Pull vacuum on refrigerant lines with vacuum pump.
Release refrigerant into system, start up, and balance pressures.
It is recommended that you allow a skilled contractor to also:
Solder the copper refrigerant line connection(already mounted in place and connected by homeowner).
Connect high voltage wiring to main home circuit panel (wiring from circuit panel to condenser may be installed by homeowner).
For more information on installing central air and what aspects of the installation the average homeowner can and can't perform, please click here
Handling Refrigerants Responsibly
(From the U.S. Environmental Protection Agency's Web site) Along with prohibiting the production of ozone-depleting refrigerants, the Clean Air Act mandates the use of common sense in handling refrigerants. By containing and using refrigerants responsibly — that is by recovering, recycling, reclaiming, and reducing leaks — their ozone depletion and global warming consequences are minimized. The Clean Air Act outlines specific refrigerant containment and management practices for HVAC manufacturers, distributors, dealers and technicians. Properly installed home comfort systems rarely develop refrigerant leaks, and with proper servicing, a system using R-22, R-410A or another refrigerant will minimize its impact on the environment. While EPA does not mandate repairing or replacing small systems because of leaks, system leaks can not only harm the environment, but also result in increased maintenance costs. One important thing a homeowner can do for the environment, regardless of the refrigerant used, is to select a reputable dealer that employs service technicians who are EPA-certified to handle refrigerants. Technicians often call this certification "Section 608 certification," referring to the part of the Clean Air Act that requires minimizing releases of ozone-depleting chemicals from HVAC equipment. To learn more on the subject from the United States Environmental Protection Agency, click here