Ductless mini-split systems are a popular choice for garage conversions. Turning your garage into a livable space–a workshop, game room, gym, office, or home theater–can be a great way to get the most out of your home.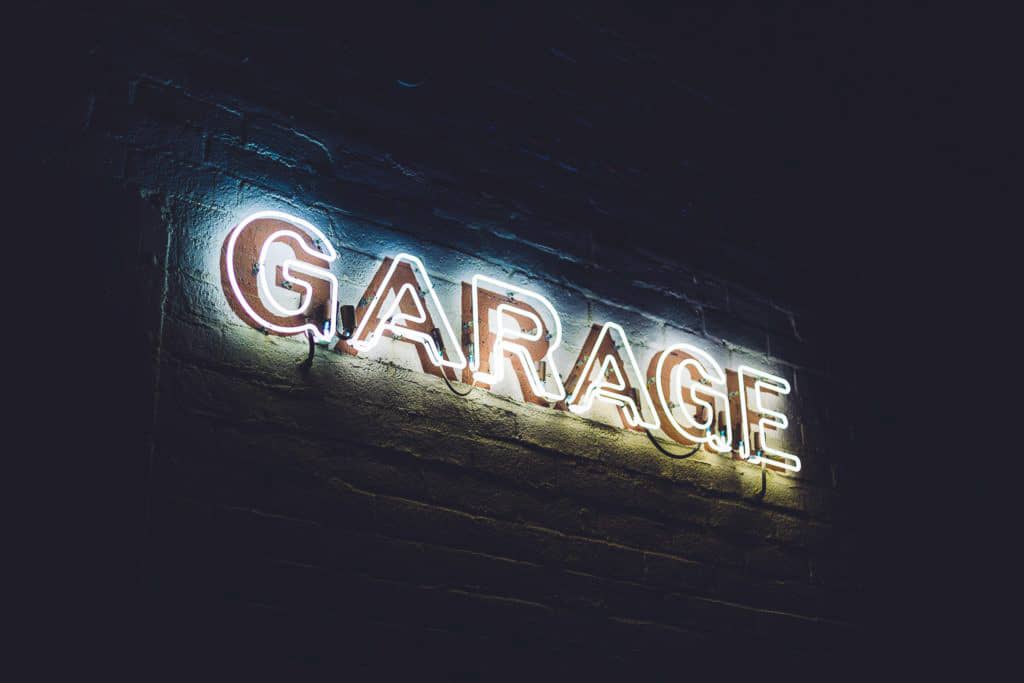 Photo by Patrick Fore on Unsplash
When converting your garage, one of the most important decisions is the type of equipment you will use to condition the space. Unfortunately, running new ductwork can be expensive and may require replacing your existing HVAC equipment.
Mini-splits are an ideal solution when it comes to this type of application, and they offer several advantages over traditional HVAC:
Typically cheaper than modifying or replacing existing ducted equipment

Straightforward installation (90-100% can be DIY if you are handy)

Year-round, energy-efficient heating and cooling

Whisper-quiet operation

Independent climate control

WiFi connectivity and smartphone / smart home hub compatible
A mini-split can be customized to your specific garage and how you intend to use the space. Independent climate control is perfect for a flex space like this, as you may not want to heat or cool the garage if unoccupied for long periods. WiFi connectivity allows you to control the system directly from your phone: turn the unit off while you're away, and turn it on before you arrive home so that your space will be ready when you are.
6 Sizing Considerations for your Garage
The HVAC experts at Alpine recommend considering the following important factors when choosing the right size and type of mini-split for your garage:
Square Footage

Ceiling Height

Insulation

Air Escape through Gaps and Doors

The Climate in Your Region

How Will You Use Your Repurposed Garage?
Square Footage
The first step in finding the right mini-split system for your garage is to know your square footage. Garages vary in size, with typical 1, 2, and 3-car garages being approximately 20' x 12' (240 square feet), 20' x 20' (400 square feet), and 20' x 30' (600 square feet), respectively. If we look solely at square footage, a simple mini-split sizing chart might suggest the following sizes for average 1, 2, and 3-car garages: 9,000 BTU, 12,000 BTU, and 18,000 BTU. However, in many cases, these units would not perform to expectations because the unique attributes of a garage were not taken into account. To avoid undersizing your system, read on.
Ceiling Height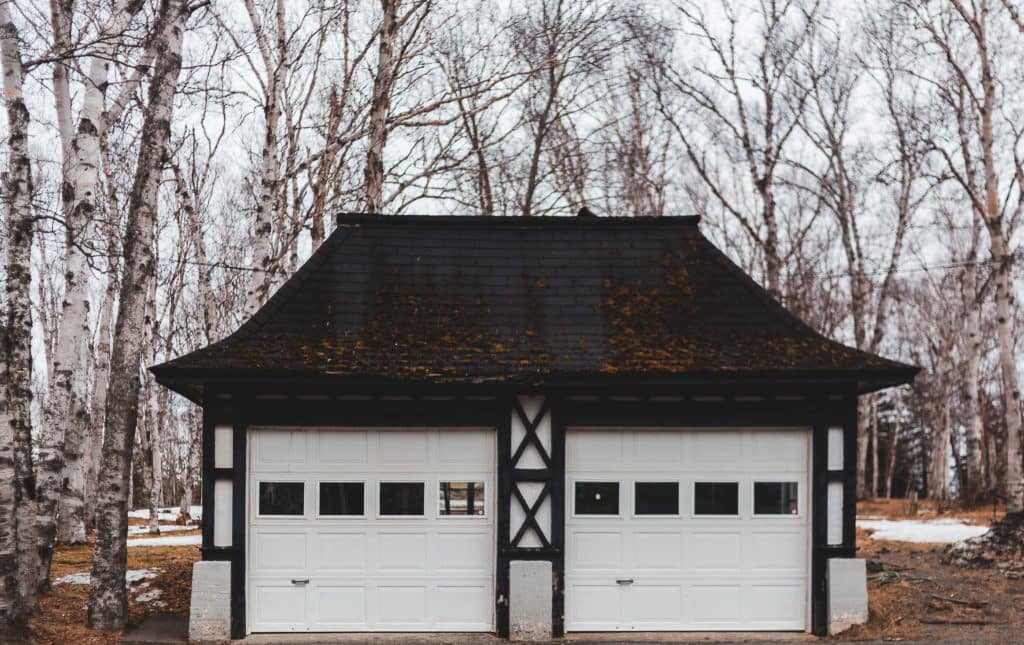 Photo by Erik Mclean on Unsplash
The average ceiling height of a garage is 8-9 feet, though some are higher and may be vaulted. The extra air volume will require additional heating and cooling power. To adjust your square footage to take a high ceiling into account, use the following formula:
9 feet or under is normal

For 10 feet, multiply the square footage by 1.1

For 11 feet, multiply the square footage by 1.2

For 12 feet, multiply the square footage by 1.3

For 13 feet, multiply the square footage by 1.4

For 14 feet, multiply the square footage by 1.5

For 15 feet, multiply the square footage by 1.6
Insulation
Attached garages are not well-insulated compared to the rest of your house. Typically, the shared wall between the garage and the home is the only wall that contains insulation. With three out of four sides of the space uninsulated, it will take more power to maintain your desired temperature in the garage than in other rooms of your home. Detached garages usually lack insulation on all sides.
We recommend insulating your garage as much as is practical because it can save you from the higher upfront cost of upsizing your mini-split system and the ongoing energy cost of conditioning a poorly insulated space. A cheap and easy garage door insulation kit, which ranges from $50 to $100, will provide at least some protection from temperature swings. Lack of insulation, however, is not a deal-breaker. Upsizing your system by at least one size should provide ample power to maintain your desired temperature within the space.
Air Escape through Gaps and Doors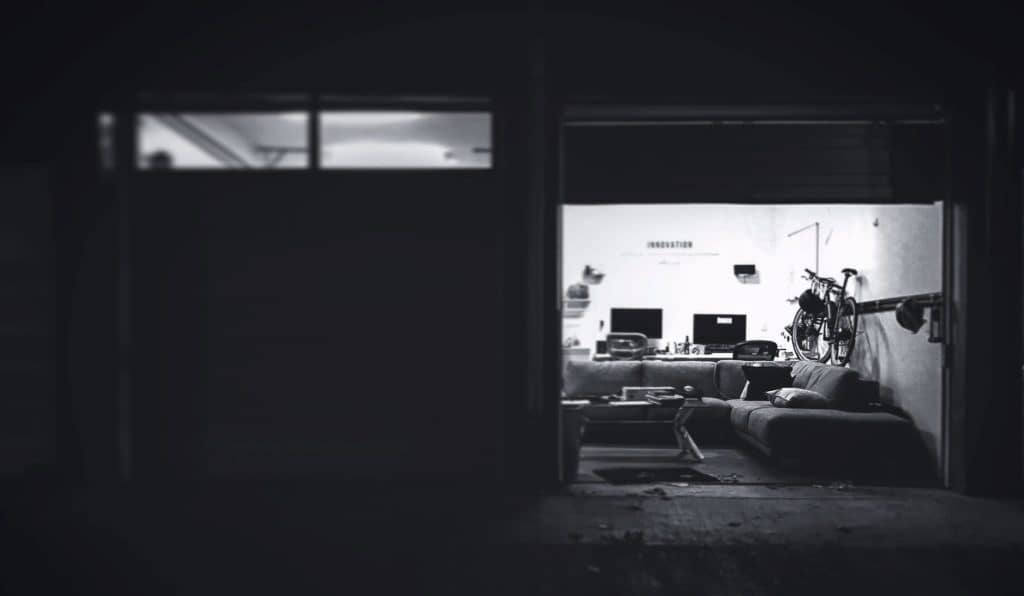 Photo by Marius Ciocirlan on Unsplash
Another significant difference between garages and the living spaces of your home is the large doors that open directly to the outdoors. If you plan to use the space with the door(s) partially or fully open, or if the door(s) will open and close with regularity, you'll want to consider a more powerful unit that can overcome the loss of conditioned air.
Even if you plan to keep the garage door(s) closed most of the time, keep in mind that the perimeter may not be tightly sealed, leaving gaps where air can escape. Check for gaps along the left and right sides of the door, and make sure that the weather stripping makes full contact with the floor along the bottom edge of the door.
The Climate in Your Region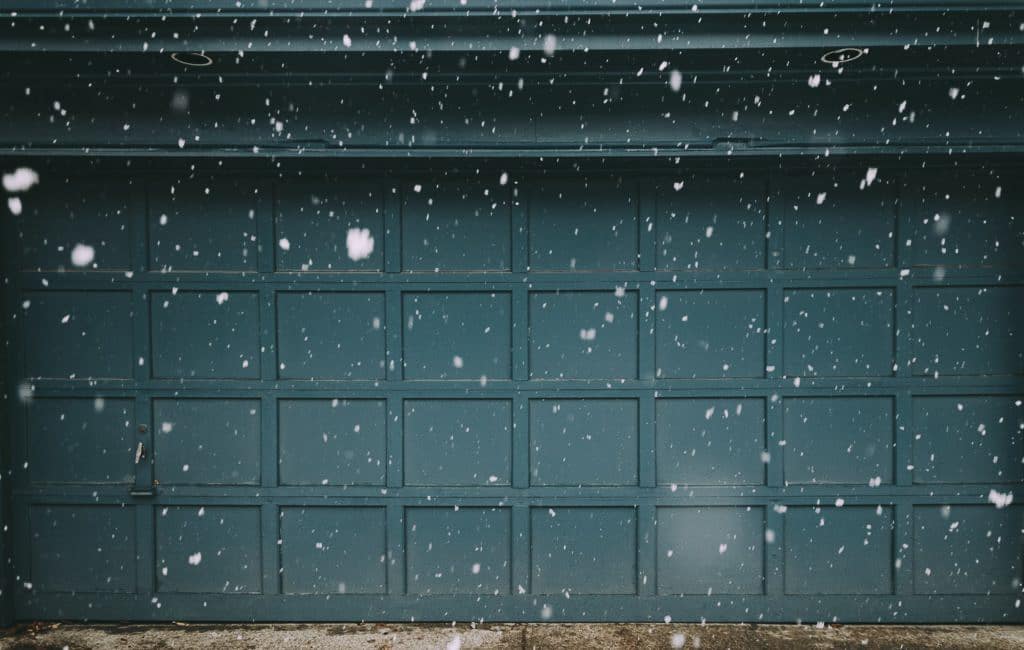 Photo by Kelly Sikkema on Unsplash
If you live in a moderate climate without prolonged temperature extremes, then a standard mini-split system should be adequate to condition your garage. However, if your region experiences periods of sub-freezing or sub-zero temperatures, then a 4 or 5 Series Blueridge mini-split will keep you comfortable during the coldest months. These sophisticated units can provide heat down to -22℉ outside. In extremely hot climates, these same units will help keep the sweat off your brow while you work or play.
How Will You Use Your Repurposed Garage?
Two key factors that may affect your system size are: what you plan to do in your space and how often you will use it. Consider the following:
Will you be generating heat in the same area you're trying to cool?
Photo by Rob Lambert on Unsplash
For instance, will you use any equipment that creates a significant amount of heat? Or will you regularly hold gatherings of more than 4-5 people in your space? If yes, we recommend upsizing your system to provide adequate cooling. Let's imagine the following two scenarios: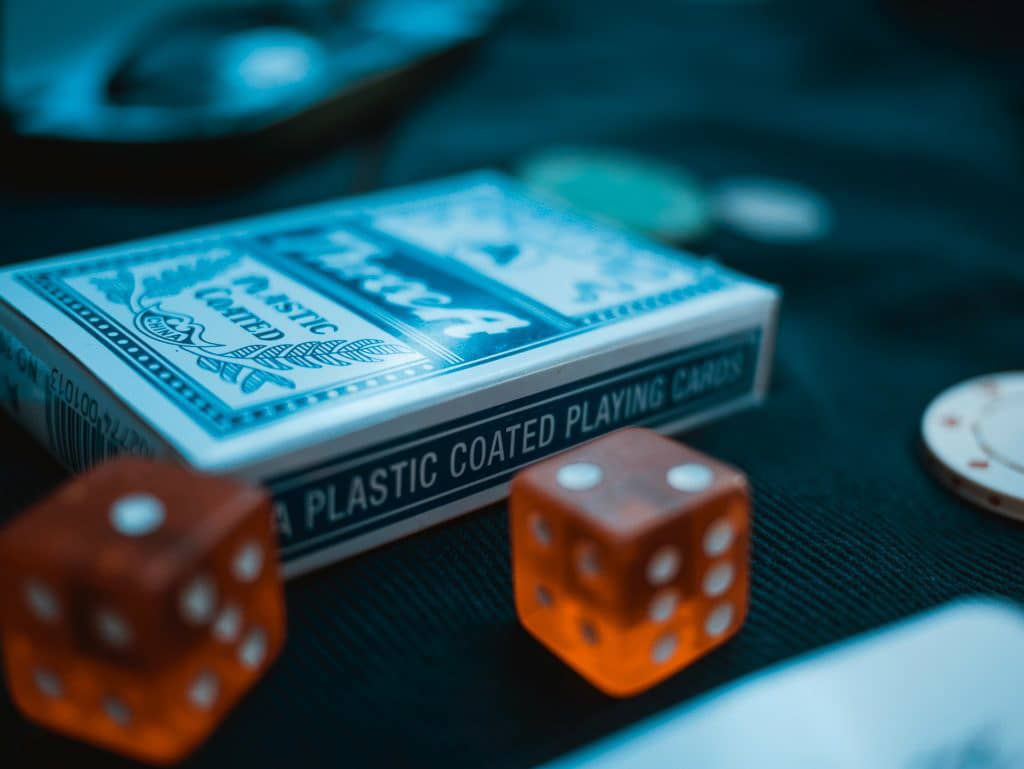 Photo by Josh Appel on Unsplash
You have a garage that normally needs 12000 BTUs of cooling. However, you host a weekly game night with 15 friends. When all 15 friends are in your space, they add approximately 400 BTUs of heat per person, per hour. (That's 15 people x 400 BTUs = 6000 BTUs of heat generated!) Therefore, if you want to stay cool on game night, you'll need to size up to an 18000 BTU system.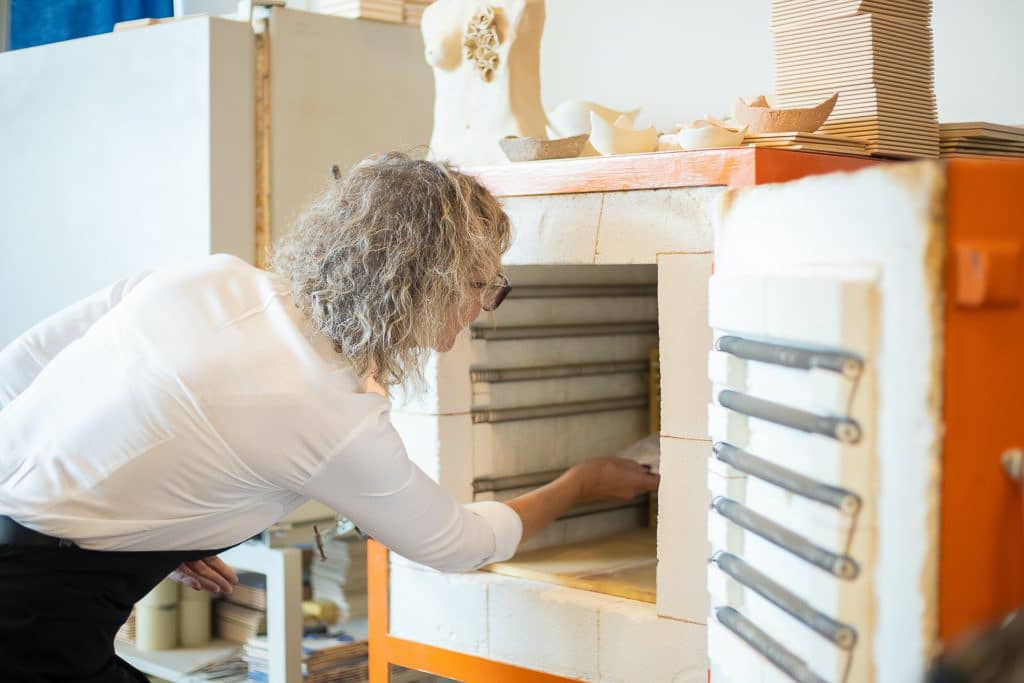 Photo by Kampus Production on Pexels
Your workshop usually needs 18000 BTUs of cooling, but you have a small kiln that adds 5000 BTUs of heat per hour to your space. If you use your kiln during the summer months, then you would need 23000 BTUs of cooling power (18000 + 5000) to stay cool in your space.
Will you use the space frequently or occasionally?
Mini-split systems have a well-deserved reputation for efficient heating and cooling. They achieve maximum efficiency when maintaining a set temperature over time, on a low-and-slow mode. If you plan to use your space often and keep your mini-split running in this high-efficiency mode, then there is no need to increase the size of your system.
However, if you will only use your garage space occasionally and plan to turn the system off when the room is not in use, then you may want to size up. Here's why. As soon as your system turns off, the temperature and humidity of the room will change as conditioned air escapes and unconditioned air enters. When it's time again to use the space, you'll want it to feel comfortable right away. The mini-split will work extra hard to achieve your desired temperature (many units have a "turbo" mode for this very purpose), but it may not happen as quickly as you would like. We recommend going up a size to rapidly heat and cool your space.
Air Handler Type and Location
Mini-split systems consist of two units–the outdoor condenser or heat pump and the indoor air handler. Air handlers come in various styles to suit both practical and aesthetic purposes. With a garage space, the choice comes down to functionality. Where is the best place to put your air handler, based on the layout of your room? In some cases, your placement needs may determine the type of air handler best suited to your space.
The Wall-Mounted Air Handler
The most popular type, and our top recommendation for a garage application, is the wall-mounted air handler. These mount directly on a wall 6 feet or more above the floor and at least 6 inches below the ceiling.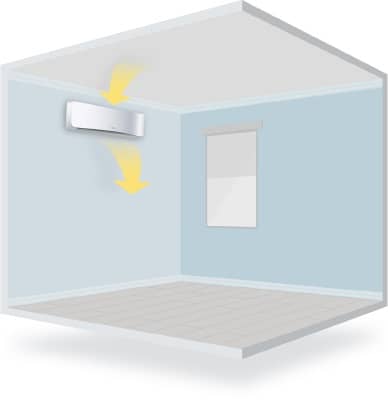 As long as you have the wall space, wall-mounted units are typically the easiest type to install. They mount on exterior or interior walls, and you can even position them close to where you will be within the room to further enhance your comfort level. Standard wall-mount air handlers range from 9000-36000 BTUs of heating and cooling and can cover most garages.
The Wall/Ceiling Air Handler
Photo courtesy of Unsplash
Not much wall space to spare? Wall/Ceiling units provide flexibility during the installation process, allowing floor-level placement or suspension from the ceiling.
These units offer between 18000-60000 BTUs of heating and cooling capacity, so they are also an excellent choice for oversized garages or when you have upsized your system to account for lack of insulation or other factors, discussed above.
The Ceiling Cassette
What if your wall space is at a premium, and you have a lower ceiling height? Or perhaps you're looking for a more discrete unit.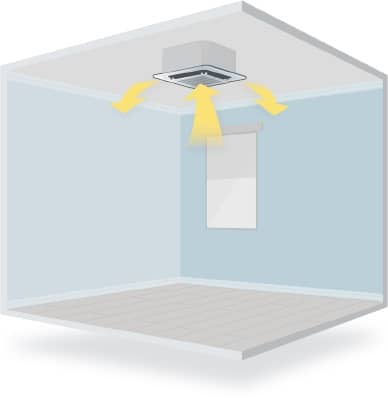 Although the priciest style of air handler, the ceiling cassette mounts flush with the drywall and has louvers on all four sides to distribute air evenly within your space. The inner workings of the air handler are cleverly concealed above the ceiling, in-between the joists. No wonder it is our second most popular style!
Dual-Zone Mini-Split System (2 Air Handlers)
For oversized or L-shaped garages, you might consider two air-handling units to cover the space. Our multi-zone systems pair one outdoor heat pump with two or more air handlers (same or different styles) to more efficiently mix the air in a larger space.
Questions About Your Project? Ask an Expert!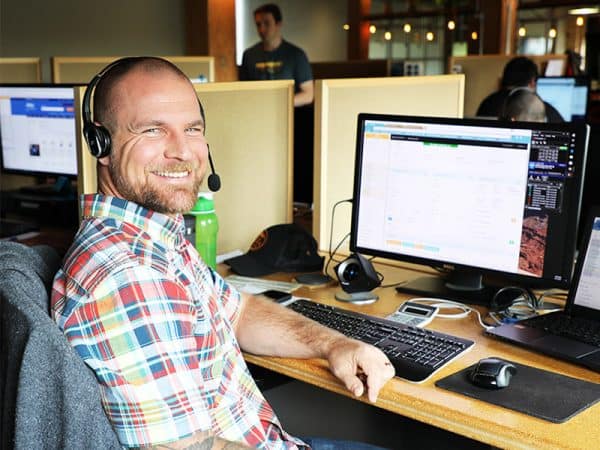 The HVAC experts at Alpine Home Air Products can help you find the best mini-split system for your space, your budget, and your particular needs. Here at Alpine, we've been making customers happy since 2002. We have thousands of 5-star reviews and an A+ rating from the BBB.

Blueridge ductless mini-splits–Alpine's exclusive brand–are made to our specifications by the world's largest, most reputable HVAC manufacturer and have the highest online product ratings of all mini-split brands. When you purchase a Blueridge mini-split from Alpine, you get:
Whether you're just starting to brainstorm a garage conversion or you're ready to take back your garage from the elements, our team is here to help. Call or email us today!