Packaged Terminal Air Conditioners (PTAC), like those found in a typical hotel room, are an ideal way to heat and air condition offices, apartments, dormitories, and residential additions. The PTAC units slide into a standard, pre-existing 16" x 42" wall sleeve and include intuitively configured controls. New installations require a wall sleeve and grille which can be purchased as Accessories. These PTAC units are designed with efficiency, durability, and quiet operation in mind. They can be purchased in a variety of capacities to meet your sizing requirements. This PTAC unit is a heat pump with a back-up electric heat strip.This Amana PTAC Kit includes all equipment and accessories needed for a typical PTAC installation.
Kit Includes: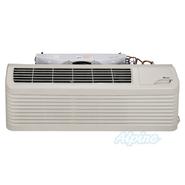 +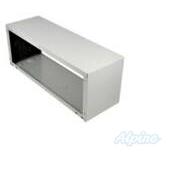 +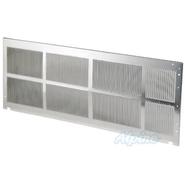 +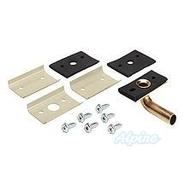 Amana PTH153G50AXXX Amana WS900E Amana SGK01B Amana DK900D
14,200 BTU Heat Pump PTAC Wall Sleeve Standard Outdoor Grille Condensate Drain Kit
When purchasing a PTAC unit be sure to match the power plug to the wall recepticle. View this plug chart which will show you what wall recepticle is required for the PTAC unit of your choice.
Features
DigiSmart Control Board – Degree-by-degree temperature control and LED digital display make it easy to monitor the system settings
Quiet Fan Operation – New 9-blade condenser fan, and reconfiguration of copper refrigerant tubing results in the quietest Amana PTAC ever
Automatic Freeze Protection – If the unit senses the indoor temperature below 40 degrees, the fan motor and electric heat strip are turned on
3-Minute Compressor Lockout – After the compressor cycles off, it will not restart for three minutes in order to prevent harm to the compressor
Automatic 2nd Stage Electric Heat (Heat Pump Only) – If the room temperature falls to 4 degrees below the set point temperature, the heat pump compressor is shut off and the electric heat strip is turned on
Rotary Compressor – Permanently mounted on rubber isolators to limit vibration noise