18,000 BTU Wall Mounted Ductless Indoor Air Handler
Have It Installed
Professional installation now available in !
Free online quotes
No home visit
Learn More
In Stock and Ready to Ship.
If ordered by 1 p.m. CST M-F, ships same day. All items on your order must be in stock for same-day shipping.
HIGHLIGHTS
This is an indoor air handler ONLY - a complete system requires an outdoor Condenser connected with copper refrigerant tubing and electrical wiring.
Blueridge Ductless Mini-Split AC Highlights
Homeowners and contractors love Blueridge ductless mini-splits. If you own a home, you will want one.
Surprisingly
Affordable
Incredibly
Quiet
Great
Reviews
Easy to
Install
Blueridge mini-splits are a high quality, energy efficient and inexpensive option for cooling and heating many types of spaces without ductwork.
Blueridge mini-splits compare favorably to well-known brands at a fraction of the price. They have the highest online product ratings of all mini-split brands. Their affordability, ease of installation, and high quality make them a favorite among contractors and homeowners.
Use them to efficiently cool and heat these types of spaces:
Entire Homes
Condos
Bonus rooms
Mother-in-law apartments
Hotel rooms
Garages
Attics
Basements
Man caves
Tiny homes
Studios
Workshops
Casitas
Pool houses
Sun rooms
Offices
Retreat spaces
Small businesses
Coffee shops
Enclosed porches
...and many more applications
Blueridge mini-splits are whisper quiet and energy efficient. They use specialized inverter technology - a luxury feature not found in most standard HVAC systems. Inverter technology allows for precise, even heating and cooling. This powerful technology saves energy while heating and cooling more quietly and more effectively than traditional systems. They heat and cool by zone. This allows you to control temperatures by room or turn them off in unused rooms.
These systems consist of one outdoor condenser and at least one indoor air handler. These are connected using copper lines and special wire. You can use a single-zone system to heat and cool one space or multi-zone systems for multiple rooms.
Blueridge systems are simple to design and easy to install. Our product specialists can help you properly size and design the best system for your application.
"Blueridge ductless mini-splits are exclusive to Alpine Home Air and are one of our most popular brands. These units are manufactured to our specifications by the largest, most reputable HVAC manufacturer in the world. Our customers love them! We receive rave reviews because these products are solidly-engineered, thoroughly tested, reliable, and quiet.
Our customers order Blueridge because of the incredible value and savings. Competing brands cost more for one reason: a long supply chain raising the price before the product hits your door. With Blueridge, we buy directly from the manufacturer and our customers save thousands of dollars.
Long established throughout the rest of the world, mini-splits are quickly gaining popularity across America. The ease of installation, versatility, and savings cannot be matched. We know you will love our Blueridge mini-splits as much as we do. Please tell your friends and help us get the word out."
Andrew Arthurs
CEO and Founder - Alpine Home Air Products
Hear what our customers have to say about our best selling mini-split!
Ductless Mini-Split Basics Explained
Blueridge Mini-Splits Also Provide Heat!
---
Standard Features
Convenient remote control enables unique temperatures to be set per zone.
High-efficiency inverter technology allows for even cooling and heating while reducing energy costs.
Gold fin condenser coil coating extends the life of your system by protecting it from corrosion.
Intelligent sleep function adjusts to your sleep pattern in order to maximize your comfort and reduce energy costs.
User controls direct air flow.
Intelligent defrost reduces energy and defrost time by only defrosting when needed.
Includes*
*NOTE: Does not include all required components for installation. See
required components below
in the accessories section to complete your system.
---
Installation
View installation manual in the
documents
below for full instructions.
---
Step 1
Mount
Once you have received the product, mount the indoor and outdoor units to your desired resting location.
Step 2
Connect
Next, run the line sets, drain line, and electrical wires from the indoor unit(s) to the outdoor unit.
Step 3
Electrical
Run a 220 volt power circuit from your main breaker to the outdoor disconnect. Then run the electrical whip from the disconnect to the outdoor unit.
Step 4
Pro Start Up
We'll help you get an HVAC contractor who will pressure test the line sets, check for leaks, and release refrigerant. Click Here For Details
---
How to Install a Blueridge Ductless Mini-Split AC System
Customer Reviews
"Yes, I would recommend this to a friend."
Barry
"Product works great to heat and cool a remote office."
Calvin
"Let me tell you - this unit is DEAD QUIET inside and out - no compressor noise outside, just a gentle hum of the fan."
Tyler
"This system is great! This system is so quiet you don't even know it's running unless you look at the lights. I would definitely recommend this product to anyone looking for a new system!"
Kath
"This worked so well a neighbor came over and said here's the cash... get me one and install it."
Francis
"Second time purchasing from them with great success."
Ralph
"This unit is an outstanding value for its price."
Darrell
"Even my AC Installer was impressed with its quiet operation."
George
Included in the Blueridge BM18M21WM Box: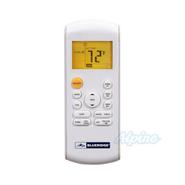 Blueridge 17317000A50985
Remote Control
Specifications
| | |
| --- | --- |
| Sound Level Indoor (Hi/Mi/Lo) | 43 / 38 / 32 Decibels |
| Air Handler Setpoint Range (Cooling) | 62 - 86 °F |
| Air Handler Setpoint Range (Heating) | 62 - 86 °F |
| Wireless Remote | Included |
| Cooling BTUs | 18000 BTU |
| Maximum Heating Output BTU | 18000 BTU |
| Airflow Capacity | 559 365 306 CFM |
| Refrigerant | R-410A |
| Line Set Connection Type | Flare |
| Liquid Line Size | 1/4 Inches |
| Suction Line Size | 1/2 Inches |
| Indoor Air Handler Weight | 29 Lbs |
| Width | 42 13/25 Inches |
| Depth | 8 9/10 Inches |
| Height | 13 19/100 Inches |
| Indoor Air Handler Type(s) | Wall Mounted |
| Parts Warranty | 5 Years |
Let's Talk
Get expert assistance from our team
Call our product specialists at 800-865-5931
Mon-Tue 7:30a-7p, Wed-Fri 8a-6p, Sat 10a-3p CT
Bill
Brian
Dan
Jack
Joseph
Peter