18,000 BTU 24 SEER ULTRA HEAT Single Zone Ductless Mini Split Outdoor Condenser
18,000 BTU 24 SEER ULTRA HEAT Single Zone Ductless Mini Split Outdoor Condenser
Model:
Blueridge BMKH1824/O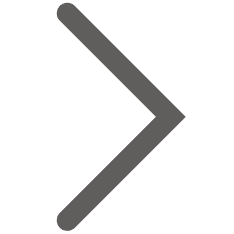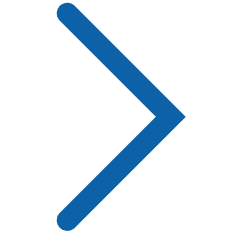 Actual product may vary from photos.
Model:
Blueridge BMKH1824/O

Provides heating and cooling

Whisper quiet indoors and outdoors

Sips electricity for low utility costs

Simple installation + friendly tech support available
In Stock and Ready to Ship
If ordered by 1PM CST M-F, ships same day. All items on your order must be in stock for same-day shipping.
highlights

*NOTE: This product is not a complete system, it is only one component. A complete system requires an indoor air handler, outdoor condenser and connecting line set.
Please view complete systems here.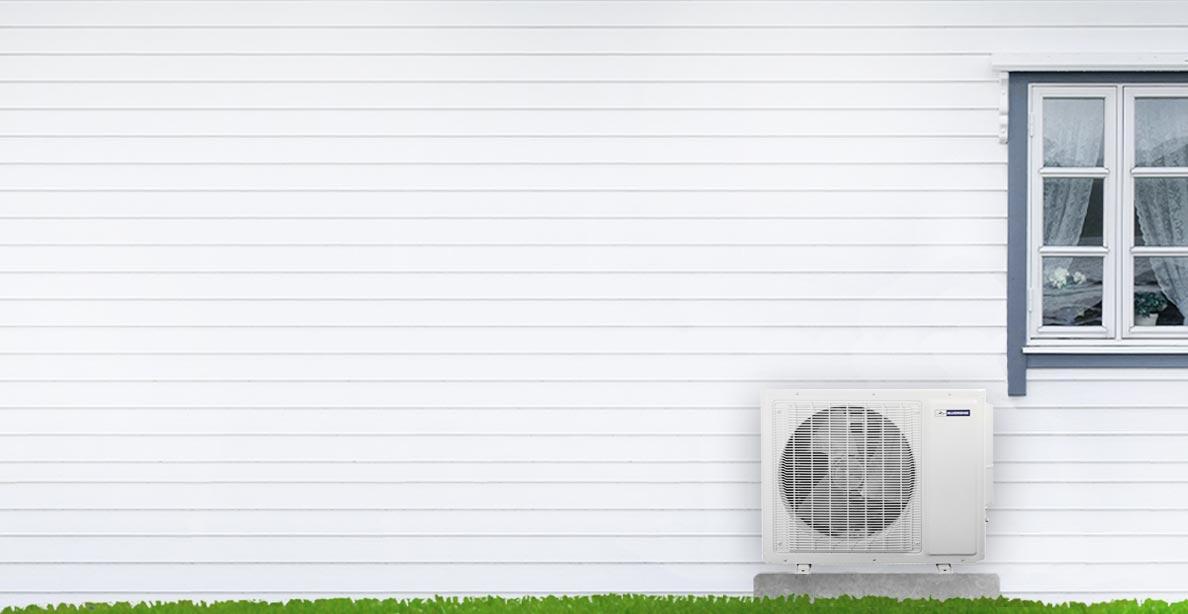 Heat or Cool Any Space,
Simply and Affordably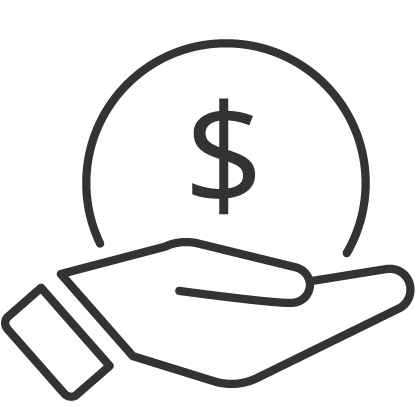 Surprisingly
Affordable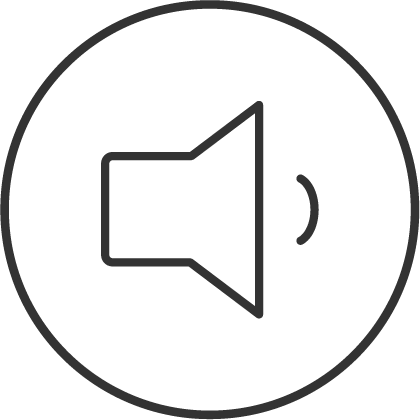 Incredibly
Quiet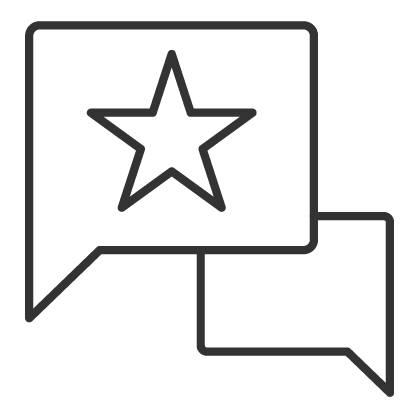 Great
Reviews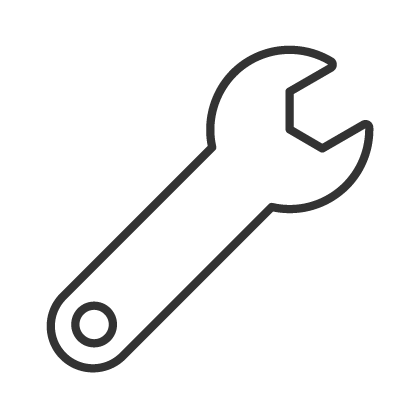 Easy to
Install
What is a Blueridge Ductless System?
It's a better way to heat and cool any space without the need for ductwork. Includes an outdoor heat pump condenser and 1 to 5 indoor air handlers. It's inexpensive to own and operate, easier to install and whisper quiet.
Homeowners and contractors love Blueridge ductless mini-splits. If you own a home, you will want one.
Introducing Blueridge Energy Star, the ultra high efficiency smart ductless mini-split system from Blueridge. You can keep any room comfortable without sacrificing aesthetics. The quiet, unobtrusive design delivers advanced performance with an industry-best energy efficiency rating of up to 38 SEER in cooling and 15.0 HSPF in heating.
Blueridge ES Series provides ULTRA Heating technology to keep you reliably warm when temperatures drop as low as -22°F. Universal WIFI technology makes operation simple - enjoy direct control from your smartphone. Unparalleled efficiency and technology make Blueridge Energy Star Mini Splits, the perfect choice for any home or office.
Benefits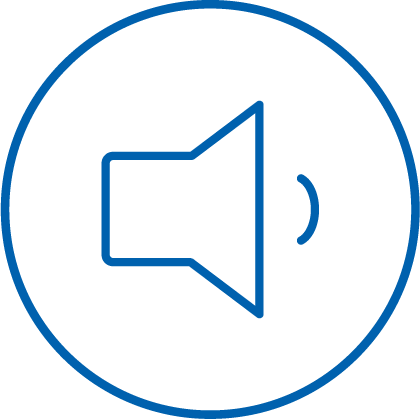 Quiet
Both the indoor and outdoor units operate so quietly you may not be aware they are running. You will just be aware that you are comfortable.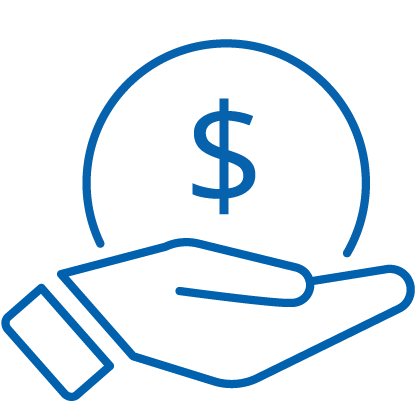 Affordable
The great value extends beyond the low purchase price of these units. You will be pleasantly surprised by how inexpensive they are to operate.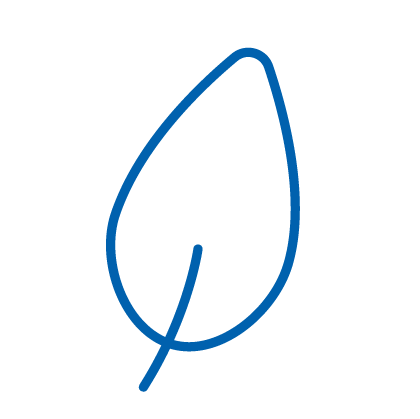 Efficient
Lower your utility bills with inverter technology, by using less electricity and no fossil fuels to accomplish your heating and cooling needs. This is intelligent equipment for a sustainable and comfortable lifestyle.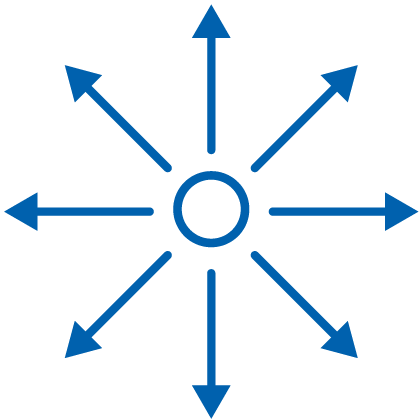 Versatility
Because there is no ductwork, this is a solution for all kinds of hard-to-fit applications. Any room or space can be transformed into a place for you and others to enjoy for years to come.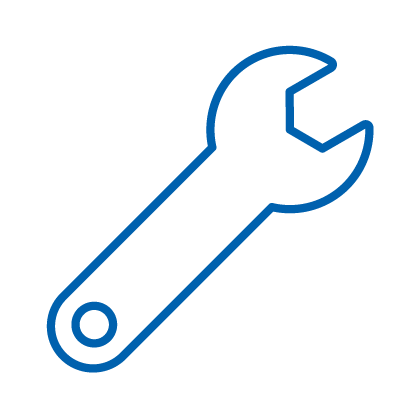 Simple Installation
If you're handy, you can accomplish 90% of the installation yourself by following the simple directions and watching our helpful video. Bring in a professional to finish the job and you're set.
Heat or Cool Any Type of Space: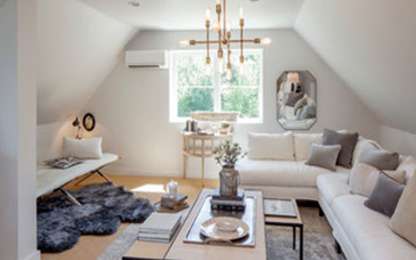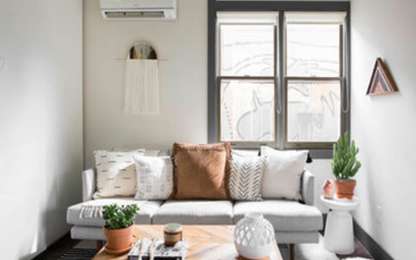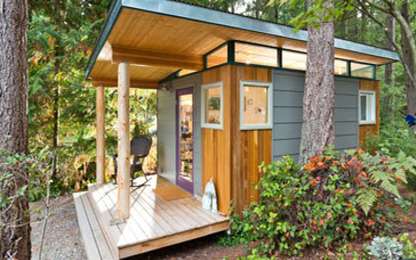 Videos
Blueridge Ductless Mini-Split AC Highlights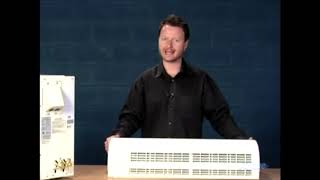 Ductless Mini-Split Basics Explained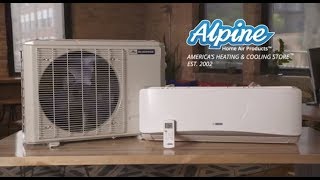 Blueridge Mini-Splits also Provide Heat!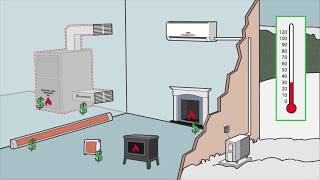 Great customer reviews

Great Product!

This is an outstanding product at a reasonable price.

Great mini-split system!

Installed easily and works very quietly.

Excellent! Works great.

I would buy it again.
View All Reviews
Installation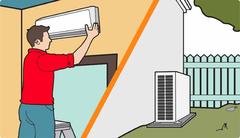 Step 1
Mount
Once you have received the product, mount the indoor and outdoor units to your desired resting location.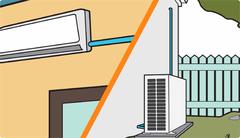 Step 2
Connect
Next, run the line sets, drain line, and electrical wires from the indoor unit(s) to the outdoor unit.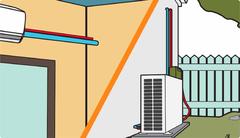 Step 3
Electrical
Run a 220 volt power circuit from your main breaker to the outdoor disconnect. Then run the electrical whip from the disconnect to the outdoor unit.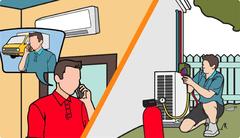 Step 4
Pro Start Up
We'll help you get an HVAC contractor who will pressure test the line sets, check for leaks, and release refrigerant.
Click Here For Details
How to Install a Blueridge Ductless Mini-Split AC System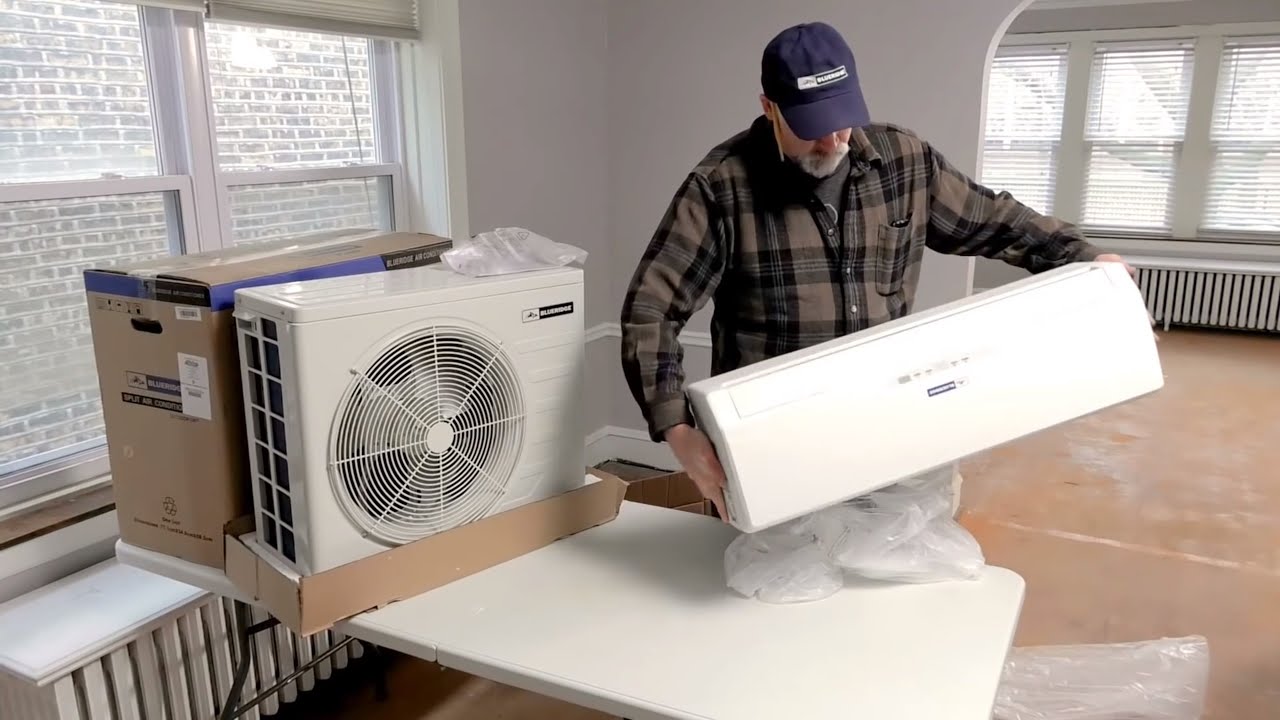 View installation manual
for complete instructions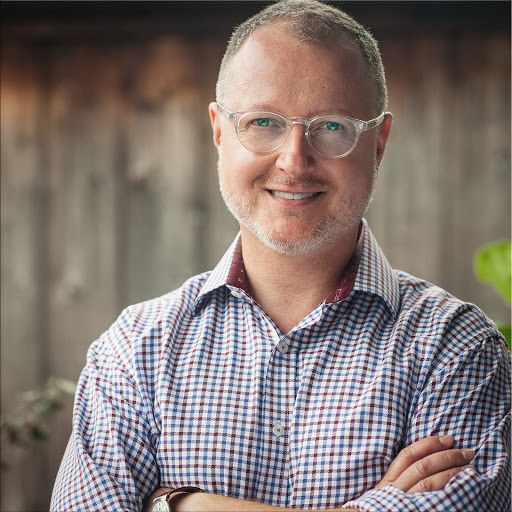 CEO and Founder
Andrew Arthurs
Alpine Home Air Products

Blueridge ductless mini-splits are exclusive to Alpine Home Air and are one of our most popular brands. These units are manufactured to our specifications by the largest, most reputable HVAC manufacturer in the world.
Our customers love them! We receive rave reviews because these products are solidly-engineered, thoroughly tested, reliable, and quiet. Our customers order Blueridge because of the incredible value and savings. Competing brands cost more for one reason: a long supply chain raising the price before the product hits your door. With Blueridge, we buy directly from the manufacturer and our customers save thousands of dollars. Long established throughout the rest of the world, mini-splits are quickly gaining popularity across America. The ease of installation, versatility, and savings cannot be matched. We know you will love our Blueridge mini-splits as much as we do. Please tell your friends and help us get the word out.

Blueridge BMKH1824/O
Standard Features

Ultra High Efficiency. Seasonal rating of up to 38 SEER cooling and 15 HSPF heating, making it among the most energy efficient heat pumps available today. Energy Star rated, recognized nationwide for products with high efficiency and lower utility costs.

Ultra Heating. Technology that gives true year round comfort in cold climate by delivering up to 90% heating capacity at -22°F.

WIFI Enabled - Control the comfort with your smartphone. For the ultimate in convenience, it has Universal WIFI and smartphone control. Simple and easy, allowing you to adjust comfort levels from anywhere you have WIFI access through your smartphone. The system is compatible with devices using standard Android or IOS operating systems.

Variable Speed Two-Stage Compressor. 2-stage compressor provides extended heating capacity at ultra-low temperature and additional cooling capacity in high temperature environments.

G-10 Inverter Technology. Inverter Technology gives the Blueridge Energy Star system a wide range of heating and cooling capacities to reach the desired room temperature much faster and maintain consistent comfort levels year round.

Intelligent Defrost / Pre-Heating. Saving energy by defrosting only when needed, the Energy Star series monitors the frost build up on the coil surface. It also monitors the discharge air temperature, and delays the indoor fan until the coil has warmed up to prevent uncomfortable cold air blowing into the room.

Self-Diagnostics. The system has a built-in computer which uses real-time diagnostics which help prolong the unit's life. The automatic diagnostics feature continuously scans for errors or malfunctions and fault codes are shown on the unit display to facilitate troubleshooting and repair.

4-Way Airflow. 4-way adjustable swing louvers can direct the airflow anywhere it is needed in the room.

Whisper Quiet Operation. Blueridge operates below typical library sound levels with sound ratings as low as 19 dB(A).

7 Speed Fan. The indoor fan can operate at different speeds, up to seven, for COOL or HEAT mode to provide maximum comfort and quiet operation.

180° Vertical Air Supply. Wide angle air guides enable a full 180° swing up and down for superior air distribution.

Polymeric Air Filters. Protect your unit and improve air quality by preventing dust and debris from degrading your system performance. The filters are washable and permanent for your convenience.

I Feel Mode Senses the room temperature from the remote control (cooling mode only) which is closest to you, instead of at the indoor unit. This means that it will adjust airflow and temperature for maximum personal comfort.
This System Includes*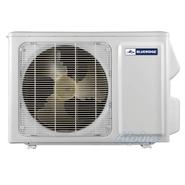 18,000 BTU 24 SEER ULTRA HEAT Single Zone Ductless Mini Split Outdoor Condenser
Specs
Low Ambient Cooling
Yes
Ambient Temperature Range (Heating)
-22 / 75 °F
Ambient Temperature Range (Cooling)
0 / 129 °F
AHRI#
205968029
Zones
1
Heating Capacity
18000 BTU
Maximum Heating Output BTU
24566 BTU
Total Cooling Capacity
1.5 Ton(s)
Cooling BTUs
18000 BTU
Coefficient of Performance
3.52 COP
Maximum Cooling Output BTU
21836.8 BTU
Height
31.10 Inches
Depth
16.8 Inches
Width
38.6 Inches
Factory Precharge
25 Feet
Maximum Height Difference
66 Feet
Maximum Line Length per Zone
131 Feet
Voltage Phase
1
Frequency
60 Hz
Minimum Ampacity/Breaker
22 Amps
Suction Line Size (OD)
5/8 Inches
Liquid Line Size (OD)
1/4 Inches
Maximum Overcurrent Protection (Breaker)
30 Amps
Maximum Fuse/Breaker
30 Amps
Compressor Type
Inverter
Cooling Tonnage
1.5 Tons
Line Set Connection Type
Flare
WIFI (2.4GHz)
None
Single Vs. Multi-Zone
Single zone
Mini-Split Series
S5 Series: Ultra Heat
Voltage
208 / 230 Volts
Energy Efficiency Ratio 2
13.5 EER2
Energy Efficiency Ratio
13.5 EER
Sound Rating, Outdoor
59 Decibels
SEER2
22.0 SEER2
SEER
24.5 SEER
Heating Seasonal Performance Factor 2
10.0 HSPF2
Heating Seasonal Performance Factor
12.0 HSPF
Product Type
Ductless Mini Split Condenser
Component Type
Outdoor Unit
Outdoor Condenser Size, W x H x D
38.6 x 31.1 x 16.8 Inches
Outdoor Condenser Weight
152.1 Lbs
Compressor Warranty
7 Years
Parts Warranty
5 Years
Refrigerant
R-410A
Footprint Mounting Holes (W x D)
24 x 15.56 Inches
ENERGY STAR® Certified
Yes
Accessories
Enjoy free shipping on any accessories purchased with the Blueridge BMKH1824/O.
Electrical Disconnect
Electrical Whips
Mini-Split Components
Mini-Split System Accessories
Outdoor Line Set Covers
Documents
Reviews
Let's Talk
Get expert assistance from our team
Sun 10am-3pm, Mon-Fri 7am-7pm, Sat 10am-4pm CT