Qualifies for Govt. Money
Total Cooling Capacity
Indoor Air Handler Type(s)
Indoor Unit(s) Capacity
Multi Zone Mini-Split Series
SEER
Heating Seasonal Performance Factor
ENERGY STAR® Certified
Customer Reviews
Watch Real Customer

Testimonial Videos
Three Zone Mini-Split Systems
A Three Zone Mini Split HVAC system offers efficient and customizable temperature control in three distinct areas through an outdoor unit and three indoor Air Handlers. This system provides superior comfort and cost savings with programmable settings, energy-saving operation, and quiet performance. These kinds of systems are well-suited for larger residences, condominiums, and workplaces.
Displaying
97-120
of
682
results
Results per Page:
Sort by:
What is a Three Zone Mini Split?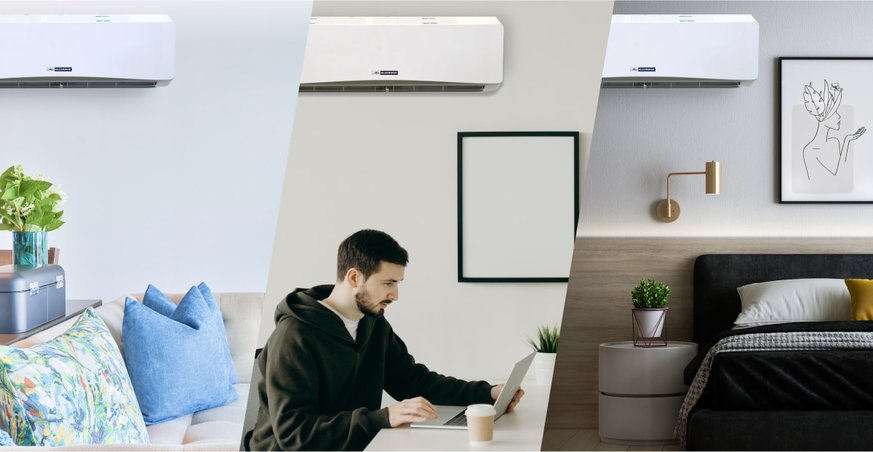 Three zone mini-splits are a part of a broader category of multi-zone HVAC mini split systems that consist of an outdoor unit (also known as a heat pump) linked to three different indoor units (also known as an air handler.)
Considered some of the most revolutionary heating and cooling systems on the market, three zone mini split systems provide highly efficient heating and cooling to residential or commercial spaces without requiring ductwork.
In contrast to single zone mini split systems that pair an outdoor condenser to only one indoor unit (or air handler), a three zone mini split system connects the outdoor unit to three indoor units distributed across various zones within a building.
A zone is a term used to define a specific area within a building.
Depending on the layout, size, and unique needs, a zone could be defined as an individual room in certain buildings or a larger, subdivided area.
Features and Benefits of Three Zone Ductless Mini Splits
There are many different types of mini split systems available on the market today, and each variation has become popular among consumers for specific key features.
Regardless of the number of zones they offer, every ductless mini split offers a wide range of benefits:
Ductless mini splits are a budget-friendly option for home and business owners (versus the cost to change an existing ducted HVAC system.)
Mini splits offer quick and easy installation (whether you DIY or hire a professional.)
The energy-efficient operation of a mini split means year-round savings!
The outdoor unit and all indoor units operate as quietly as a whisper.
Multi zone mini splits can independently control the climate of each room or zone.
Each indoor unit (air handler) connects seamlessly to a smartphone via WiFi.
Different types of indoor units (air handlers)* can provide every level of comfort and style.
*With five indoor unit/air handler types (wall mount, floor mount, ceiling mount, etc.) you can select the perfect style for each zone or room in your home or business. To learn more about indoor unit/air handler options, read our post: "A Quick Guide to Mini-Split Air Handlers."
Favorite Uses for the Three Zone Mini Splits
For many situations, a one or two zone mini split may be perfectly adequate. But for a house with multi-floors, large rooms, or a unique layout, a three zone mini split will be a welcome addition.

Here are some of the most common scenarios where a three zone mini split would be the best option for maximum heating and cooling comfort.

A Home with Three Bedrooms
A great night's sleep is one of the top reasons our customers choose ductless mini splits for their homes.
A study conducted by the Sleep Foundation determined that excess heat can reduce our sleep, and a room should be between 60 and 71 degrees Fahrenheit for optimal sleeping conditions.
When you invest in a three zone mini split, occupants of three different bedrooms can enjoy their own "just right" sleeping temperature.
During the day, when bedrooms are unoccupied, simply turn the units off to save on electricity.
But what about your four-legged pets who refuse to vacate their cozy bedroom space?
You can also keep them comfy while away from home!
A fantastic feature of any Blueridge mini split is that they can be set to run on the "low-and-slow" energy-saving mode.
That's a win-win for everyone!

An Office Floor with Multiple Rooms
A three zone ductless system is an excellent choice for any multi-room office due to its high versatility, low cost, and extreme efficiency.
Because of their unique design, three zone ductless systems can be set up to create different zones within the office, enabling customized temperature control for different areas.

This setup is especially beneficial in an office where individual comfort preferences differ or where the design of the office floor creates areas that naturally tend to stay cooler or hotter than others.

Not only that, but the whisper-quiet operation of a three zone mini split ensures a distraction-free work environment for all team members, ultimately leading to higher job satisfaction and increased productivity.
And -- by being able to control the system via WiFi and smart devices remotely -- three zone mini splits provide the user in charge of each zone's temperature a convenient way to manage temperatures according to outside conditions and occupancy schedules.
A three zone mini split can offer an ideal solution for maintaining a productive and comfortable work environment while saving you money.

Yet another ideal use for a three zone mini split is to install one in a condominium.
Multi-zone mini splits align perfectly with the unique demands of condo living.
These heating and cooling systems offer personalized comfort across different zones, thus accommodating individual preferences while keeping costs down.
A mini split AC operates discretely, ensuring a quiet environment for work or relaxation.
Flexible configurations can cover various needs, such as maintaining comfort in a bedroom, kitchen, and living room arrangement or ensuring optimal conditions in two bedrooms and a common area.
On top of all that, the indoor units (air handlers) of a mini split are designed to look sophisticated while also being sleek and low-profile...a perfect aesthetic for any modern condo.
Mini Split Sizing Explained
The HVAC industry uses two key terms to describe the performance of mini split systems: BTU (British Thermal Units) and Ton.
In this context, "Ton" represents a system's heat removal capability measured in BTUs per hour.
For example, a 1-ton mini split system removes or adds 12000 BTUs an hour, depending on whether it's heating a space or cooling it down.
Both terms are used interchangeably to help HVAC professionals and consumers define the size of a unit and determine what they need.

Here's an even better breakdown:
| 1.5 ton mini split | 2 ton mini split | 2.5 ton mini split | 3 ton mini split | 3.5 ton mini split | 4 ton mini split |
| --- | --- | --- | --- | --- | --- |
| 18000 BTUs | 24000 BTUs | 30000 BTUs | 36000 BTUs | 42000 BTUs | 48000 BTUs |
Despite this explanation, you may still wonder how to determine the size of the mini split system you need to fit your space.

Here is an easy, step-by-step way to make that decision for your office or home:
Step 1: Measure Your Space
Accurate sizing begins with knowing your square footage, as this will most likely be the most critical determinant for choosing which size mini split will be best for you.

To get the actual square footage of the space you wish to heat or cool, simply multiply the room's length by the width.
The result of this calculation will provide you with a general idea of how much cooling power (in Tons or BTUs) your area will need.

For a three zone mini-split, calculate the square footage of each room, mainly if they vary. (Different room sizes may demand smaller or larger indoor units/air handler capacities.) 

The combined square footage for all rooms will give you a sense of the total capacity needed for your three zone system, allowing you to select the condenser with the capacity you need.

Remember that if you're heating and cooling three differently-sized spaces, you'll want to look for indoor units/air handlers that meet the capacity requirements of each separate room.
Step 2: Account for Variables
Factors such as ceiling height, number of windows, amount and type of insulation, and the local climate will all influence size.
If you need an expert opinion, our helpful Ductless Mini-Split System Selector considers these more finite details.
We also recommend you consult with one of our HVAC experts to ensure the right fit for your space and budget.
We want your satisfaction!
Easy Setup
Installing a ductless system is straightforward, especially compared to traditional (ducted) HVAC systems.
Our long list of customer feedback and reviews reveals that most customers handle over 90% of the setup independently.
Much of the ease with installation can be attributed to the mini split system being designed to be more effortless than the more traditional HVAC systems. With no ductwork and a simplified setup process, installing a mini-split system is typically quicker and less complex than traditional HVAC systems.
For those of you who need or desire pro installation, our support team can easily link you with licensed experts. For more information, see our article, "How to Install a Mini-Split in 4 Steps."
Why Blueridge Mini-Splits?
Alpine Home Air Products has been delivering happiness since 2002.
With thousands of satisfied customers and a better environment, Alpine knows that our items are making a difference in the world, in homes and offices...and in your wallet!
Alpine offers high-quality, affordable products with ultra-fast shipping at no charge.

Blueridge, our exclusive brand, is the highest-rated ductless mini-split on the market.
We work closely with the top HVAC manufacturers worldwide to design a product that meets our strict guidelines. When you buy Blueridge, you are being guaranteed the following:
Here's what you'll get:
Wholesale pricing
Fast, Free shipping
The outstanding Blueridge Ductless Mini-Split Warranty
Alpine's Premium Guarantee: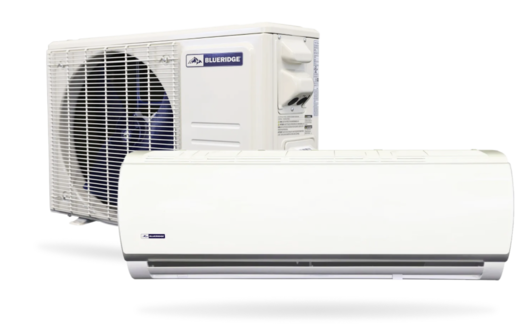 Are you ready to join the growing ranks of home and business owners who have discovered the joys of owning a mini split air conditioning system? Do you have more questions before you buy?

Our team is ready for you. Call, email, or LiveChat with us today!

Shop Ductless Mini-Split Systems
Single or Multi-Zone Systems Available
Shop Now